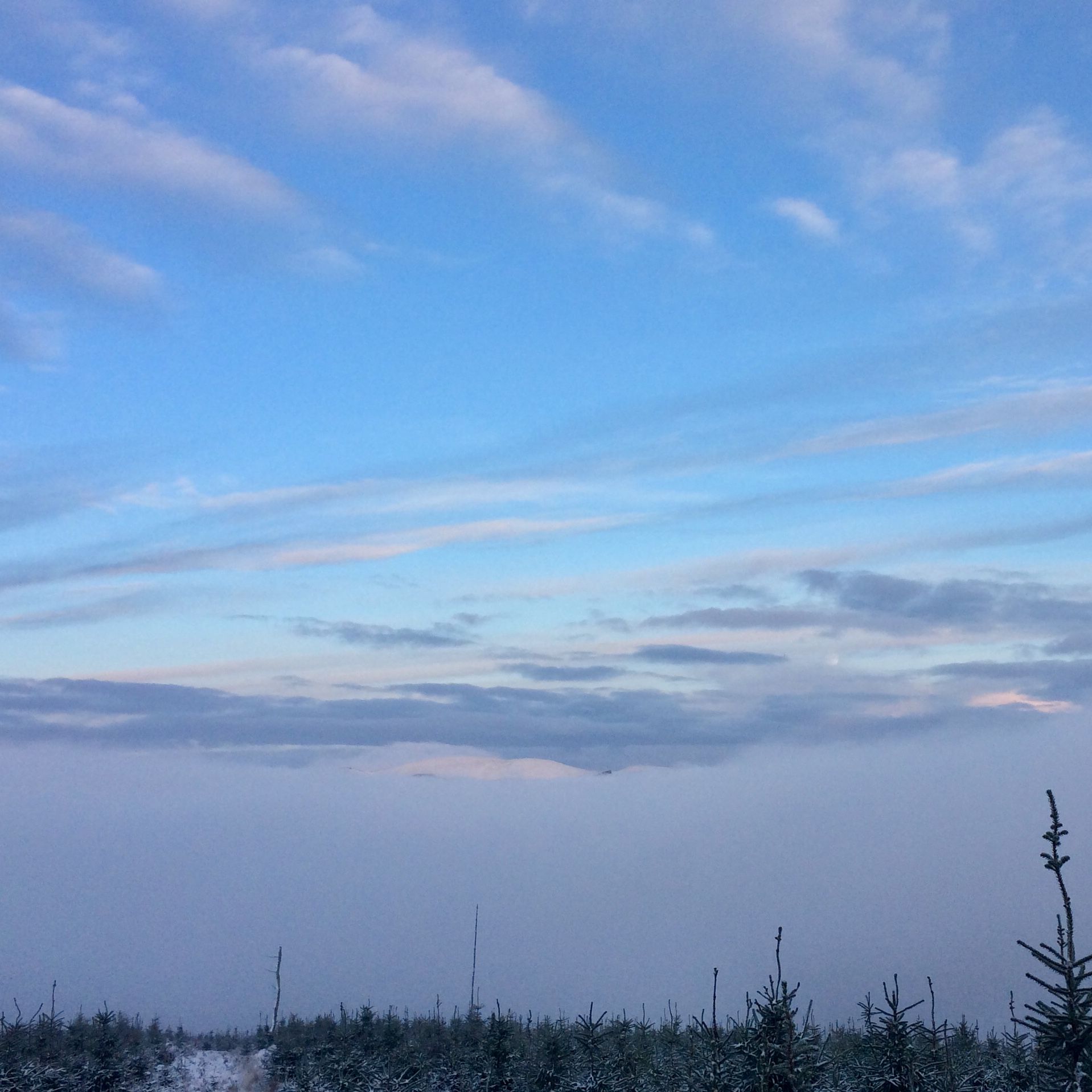 Deep snow upon the land and mist flooding the valley. Mountain summits revealed for an instant, islands in a dense white sea. Then they vanish. 
Clear cold skies, darkness on the eastern horizon and silken clouds that linger in the west, in the last of the light. A strange stillness in the valley, as you raise your voice to sing out it echoes in silence. What became of them, the ancient ones who dwelt here on the hill top? What happened to their language and their ways? They were here on evenings just like this. The hills remember them, and the sleeping rocks. You feel a stirring, glowing embers of something you once knew, and the heart is free soaring like a crow in the dusk. 
Already we are turning into another year, the Solstice and the feasting season passed. Gradually the days lengthening and the light returning, yet still in the deeps of winter. We have been turning inward a little with the season and the current state of things whilst carrying on with our work and planning for times ahead. We are continuing to release recordings and videos specially for our generous supporters on Patreon, recent releases have included original songs and installments in an ongoing series on Northumbrian and Borders Traditional Songs. It has become something of a focus for us so if you like our music please visit the page and consider subscribing- here is a link https://www.patreon.com/thebrothersgillespie. 
With 'Hazelsong Theatre' (our newly founded folk theatre troupe with Andy Bates and Linda Richardson) we are starting work on a piece for the fascinating 'Bamburgh Bones' project in Northumberland exploring the excavated 'Bowl Hole' Anglo-Saxon cemetery near Bamburgh Castle. This is leading us out onto deep waters of history and myth and we have been spending much time reading accounts of the time of King Oswald and the Northumbrian Golden Age, of Aidan and Iona, the shifting fates of British and Anglo Saxon Kingdoms and the spreading of Christianity in those early medieval times. We are meeting regularly online and starting to dream and envision aspects of the performance. We'll post updates here and a link to the theatre company's website when this is created. Check out the Bamburgh Bones project and its amazing digital ossuary here https://bamburghbones.org 
Especially given the increased challenges of the pandemic, we are feeling inspired to become more skilled at recording and producing our own music and we are planning to record an album this year. Quite a number of songs feel like the time for recording might be approaching and we hope to have some retreat time before long to work on material. One of our recent releases on Patreon was a home studio recording of our song 'The Bird on the Bough' and though there is much to learn and there may be many potential difficulties, the idea of making a record under our own steam and embracing the creative potential of that feels exciting. 
It's an uncertain time at the moment as disquieting déjà vu sets in, late into lockdown, hospitals filling, the people blamed for the government's faults. Sometimes it can all feel like a strange dream. We send out our solidarity and hope people are able to stay well and feel connected, may there be blessings and happiness ahead this year.